Thanks lads
---
Stunning machine that mate

Sent from my SM-G920F using Tapatalk
---
Never liked the exhaust support hanger, the bare ally just stood out too much and it looked a bit crap albeit very functional.. Bit of a cheat but it's great what you can do with a bit of 10 quid carbon wrap, no longer stands out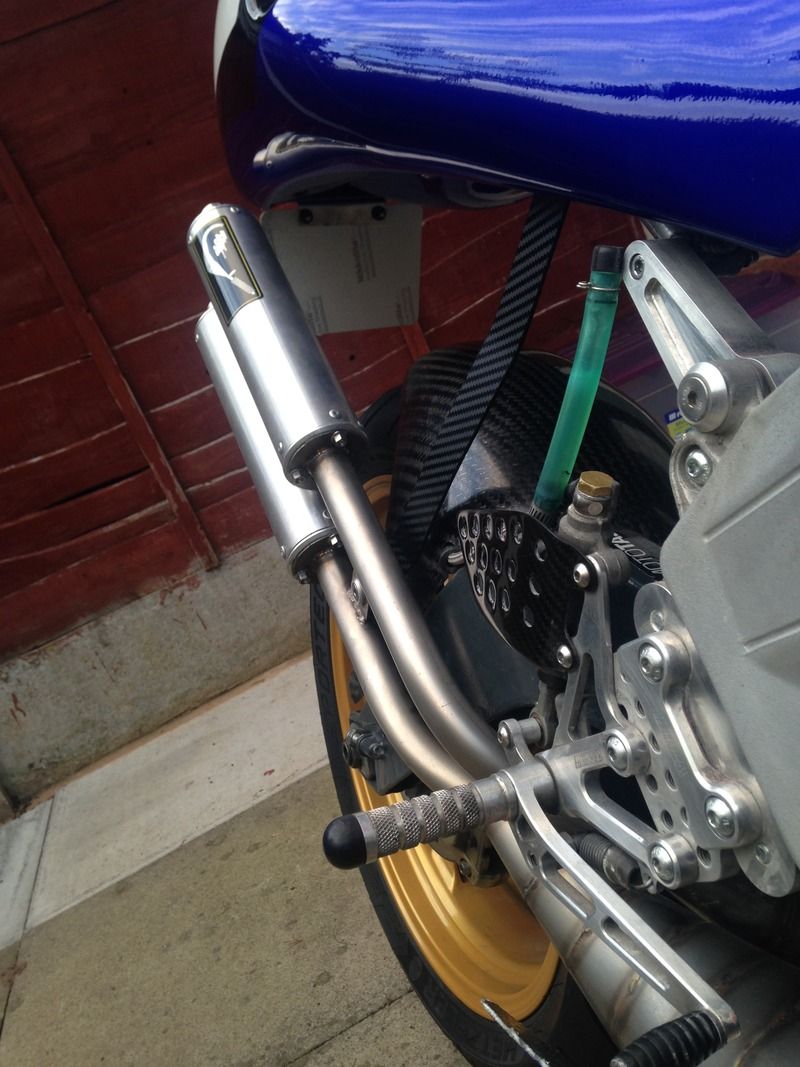 Also changed the carb needles but the weathers been that piss poor I've not had a chance to try it.
---
VIP
Posts: 1963
Joined: 31 Mar 2015, 22:31
lovely bike you've built pal
---
Very nice. Read back from the beginning, some hrs clocked up on that, but the end product is spot on.great job fella

z750
---
Really quite pleased today, feel like I'm going in the right direction. Finally got a chance to try it with the next needle up in the carbs (leaner). f**k me it was horrific. Flat as a kipper then taking off like a scalded cat and wanting to stand on its back wheel... BUT the funny thing was, it was quite happy accepting more throttle, something it always had a problem with. Whilst horrendous it was apparent I'd shifted the problem lower down and now it was too weak at lower revs/throttle openings.
Back home I went as it was frankly unrideable..and lifted the needle two steps. Blow me it's better than ever. Much happier to roll on, stronger than ever at the top end too. Feeling really positive about it now. im going to get a few more emulsion tubes for fine tuning etc. But I feel like I've really seen some potential today, absolute animal, power wheelied past a car rolling on felt awesome hahaha. I wouldn't say it's right but I can see some light at the end of the tunnel, I was starting to think the carbs weren't much good but they just need more fine tuning. Can tell it's somewhere nearer now as changing the needle height made such a big difference, before we played around with it every which way and it made very little difference.
Other bits - going to fit a bigger rad as I'm not happy with fluctuating temps, going up when giving it the beans so going to a bigger rad and a bypass thermostat to try and steady the temps. Then at some point over the winter I'll get it to John Warrington again and see how we can do on the fine tuning and mapping.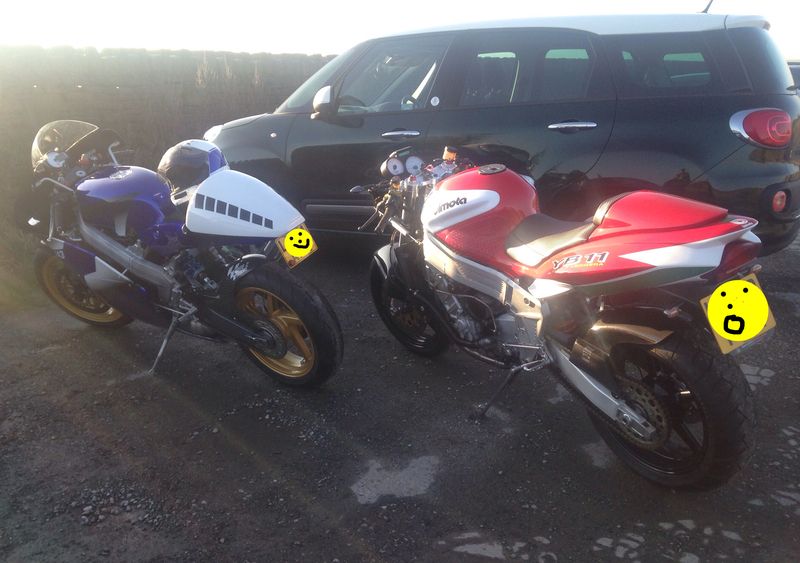 ---
And if that wasn't cool enough, you've got a friend with a Bimota... Twat, lol

Cool update as always mate
---
My dads
---
Some bits of winter messing done. Never been happy with the Yamaha fuse box with glass fuses, just shite. So cut it out and fitted a 4 way blade fuse box. Also was never happy with the CDI harness, as All that comes with the CDI is a plug I had to take the wires from the loom straight to the plug but there was just enough length resulting in the wires being under stress. Managed to get hold of a new plug and sub harness off a a fella called Rick Oliver who does a lot of stuff for VRF/RVFs, bought my ignitech off him for my old NC30 ages ago. Sent it me for free, was a big help, would recommend him to anyone..
So cut the old plug out and replaced it with the new loom.
Also replaced a few bits and bobs, the odd connector etc. The thing with building something like this is that you get so much practice during the build that by the end of it you end up wanting to re do half the stuff you did at the beginning!!
Nothing worth taking pics of on that front but pleased to keep improving little bits. Changed the bottom hose to a re inforced flexi hose as its a bit of an awkward shape... Changed my clutch Spring bolts to titanium, dunno why, pointless really but they're shiny
Topped back up with water and tested quickshifter I wired into the ignitech, seems to work well. Banged it through a few gears here.
http://youtu.be/WqGuMjtBzXE
" onclick="window.open(this.href);return false;
Only job left really is my side stand lengthened or a foot welded on then I'm good to go when the weather picks up.
---
VIP
Posts: 1963
Joined: 31 Mar 2015, 22:31
For radiator options try a double stack or even just the top curved on off a RVF400 (if you search on ebay you'll find a seller with a photo that says winner_racing across the photo- my bike (RVF400) should be on the next photo)
Great design, really good quality and curved for added air flow. Cheap too
---
---